Awards for Excellence Winner in Product Innovation
The innovation behind HeaderTarps has changed the grain harvesting industry forever, with one simple product for – cutting wastes of rework, spill losses, fuel waste, damaged grain and maintenance on capital equipment. As a result, the Specialised Textiles Association has given Header Tarps an Award for Excellence in Product Innovation. Read more here.
Improved Access Door Design for 2015 HeaderTarps
HeaderTarps Australia has designed a new and improved access door to go on all newly manufactured HeaderTarps from 2015 on. The door incorporates a horizontal magnetic strip in conjunction with two vertical straight zips. This replaces the previous design that used a curve zip that was more difficult  to manufacture and also a potential weak point for the door. The new door also allows for quicker operation and is more easily rolled up for quick access to the grain bin.
To see how a HeaderTarp can save you money on your next harvest please contact HeaderTarps today.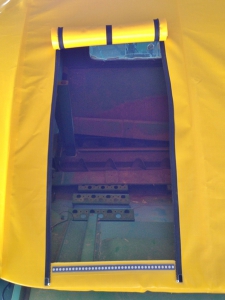 SA, EP Field Day 9th – 10th – 11th August 2016
WA, Dowerin Field Day 24th – 25th August 2016
WA, Newdegate Field Day 7th – 8th September 2016
NSW, Henty Field Day 20th – 21st – 22nd September 2016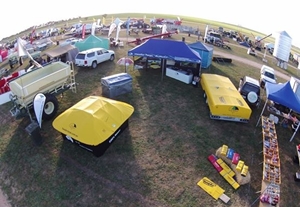 Promotions and Merchandise
HeaderTarp Australia umbrellas for purchase from the factory – good value and a great size. Stops you getting wet. $25